Dr. Frank S. DiPietro (1962-1975)
Dr. Frank S. DiPietro was the founder and first president of Franklin Pierce. Dr. DiPietro founded the college in 1962, served as president until 1975, was chancellor from 1975-1980, and was a trustee emeritus until his death in 2013.
Frank S. DiPietro was born on March 13, 1926 to Francisco and Rosaria DiPietro in Fitchburg, MA. He graduated from Fitchburg High School and enlisted in the U.S. Navy serving on the USS Hughes in World War II Pacific Forces Operations. Dr. DiPietro received several campaign medals for his participation in these Operations. Following his Honorary Discharge from the U.S. Navy, Dr. DiPietro began his college education. His Navy Commander recommended that he be admitted to the U.S. Naval Academy, however, he decided to attend the Sampson/Syracuse Programs. He received an Associate Degree in Business Administration from Sampson College, Bachelor of Science Degree from Syracuse University, Master of Arts Degree from Columbia University, Doctor of Education Degree from Boston University, Doctor of Humane Letter (Hon) from Schiller International University, and Doctor of Law (Hon) from Franklin Pierce University.
Dr. DiPietro founded Franklin Pierce College with four partners, each contributing $10,000 to start a four-year liberal arts college, which would be called Franklin Pierce College. Dr. DiPietro purchased the estate and surrounding land overlooking Pearly Pond in Rindge, N.H., to serve as the site of the undergraduate campus, which has grown in beauty and elegance over the years. Dr. DiPietro wanted to give young people better access to colleges, and he believed that everybody deserved a chance to succeed.
"I founded Franklin Pierce College in 1962, on the assumption that a liberal arts college that emphasized the process of learning how to learn would meet the educational needs of the times.…I envisioned that Franklin Pierce College would provide a relevant living experience for those students who wanted to learn how to learn and learn how to live."
DiPietro had the vision and drive that would breathe life into the institution and set it on a successful trajectory to its current position of having five satellite campuses and a successful online program. In 2012 Franklin Pierce University celebrated its 50th anniversary.
---
Hon. Walter R. Peterson (1975-1995)
The Honorable Walter R. Peterson was born September 19, 1922 in Nashua, New Hampshire. The son of Helen Reed and Walter R. Peterson, Sr., Peterson graduated from Nashua High School and New Hampton School. He attended William and Mary College and the University of New Hampshire and graduated from Dartmouth College in 1947. Peterson left college to fulfill four years' service as a United States Navy Reserve officer in the South Pacific during World War II. After graduating from Dartmouth College, Peterson became a partner in The Petersons, Inc., a real estate firm in Peterborough, New Hampshire where he and family members worked until the late 1990s.
He married Dorothy Donovan in 1949. They had two children, Margaret and Andrew. Peterson joined New Hampshire state politics in 1961 where he served as a representative and House Speaker. In 1968 he ran for governor as a moderate republican and won, holding office from 1969-1973. In later years, he warned the state Republican party against becoming too far right on the political spectrum.
After Peterson's term as governor, he became President of Franklin Pierce College in 1975, and served 20 years until his retirement in 1995. At Franklin Pierce he had a reputation for astute leadership and for knowing every student, employee, and faculty member on a first-name basis. He would later serve one year as president of the University of New Hampshire. In 1996 he became a trustee of the University System of New Hampshire.
He was awarded numerous honorary degrees, including Doctor of Law degrees from the University of New Hampshire, Franklin Pierce College, Notre Dame College, Daniel Webster College, Dartmouth College and New Hampshire College, as well as Doctor of Humane Letters from Nathaniel Hawthorne College, New England College, and Plymouth State University.
He received the Alumni Service Award from Dartmouth College in 1983. In 1992, he received the Anti-Defamation League Award for Community Service. He was awarded the Robert Frost Contemporary American Award from Plymouth State College in 1993. In 1996, the trustees of Franklin Pierce College voted him the designation of President Emeritus. He and his wife Dorothy were recipients of the Pettee Medal Award from the University of New Hampshire Alumni. Governor Peterson received the Chancellor's Award for Outstanding Service to the University of New Hampshire in 1996, and the Yankee Award from the Yankee Chapter of the Public Relations Society in 1997. He also received the first "Profile Award" in 2004. He and his wife Dorothy were the 2010 recipients of the Hubbard Family Award for Service to Philanthropy from the University of New Hampshire Foundation.
---
Dr. George J. Hagerty (1995-2009)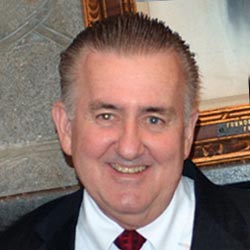 Dr. George J. Hagerty was Franklin Pierce's third president. He served from 1995-2009 and during a period of significant institutional change and growth, guiding the institution from a college to recognition as a university in 2007. A personable and charismatic leader, Dr. Hagerty took over from Gov. Walter Peterson, saying, "I intend to continue Walter Person's rich tradition of knowing every faculty and staff member, as well as every student."
Under Dr. Hagerty's leadership, Franklin Pierce established graduate studies at several locations, new undergraduate majors, new Division II sports programs, and constructed the Grimshaw-Gudewicz Activity Center at Northfields (The Bubble), and the Marlin Fitzwater Center for Communication. Dr. Hagerty was inducted into the Northeast-10 Conference Hall of Fame in 2010 for his part in helping to move Division II sports forward at the school, conference, and national level.
Dr. Hagerty received his B.A. in Political Science from Stonehill College, and an M.Ed. in Education Policy and Finance and an Ed.D. in Administration, Planning and Social Policy from Harvard University. He worked as a post-doctoral fellow at the U.S. Department of Education and at the University of Maryland. Before serving at Franklin Pierce, Dr. Hagerty was a faculty member at both of his alma maters, and worked as the director of corporate, foundation, and government relations at Stonehill College.
Dr. Hagerty received many different awards throughout his career, including the Fitzwater Medal for Leadership in Public Communications 2009 and the National Leadership Award from the National Council of Disabilities in Washington, D.C., in 1989, which he received for his work in the U.S. Department of Education. Over the years, Hagerty also served on the board of directors for many organizations, including the New England Council, American Council on Education (ACE), and the National Collegiate Association of Athletes (NCAA).
The Franklin Pierce University community was delighted to welcome Dr. Hagerty back to campus during its 2012 Alumni & Reunion Weekend to begin the year-long celebration of its 50th anniversary.
---
Dr. James F. Birge (2009-2014)
Dr. James F. Birge was appointed the fourth President of Franklin Pierce University by the Board of Trustees on April 7, 2009.
When Dr. Birge arrived in June of 2009, Franklin Pierce undertook significant initiatives in academics and co-curricular life. He oversaw the following ongoing efforts: The creation of a Strategic Planning process; curriculum program reviews and revisions; groundbreaking and construction of a new Health Science and Athletic Training facility made possible through the largest gift by an individual in the history of the University; additional classroom and online programs in the University's College of Graduate and Professional Studies; upgrades to the residential and dining facilities; and the inclusion of three additional intercollegiate athletic teams.
Dr. Birge served on the boards of the New England Council, the Jaffrey-Rindge Education Foundation and the New Hampshire Higher Education Commission. He was a Paul Harris Fellow in the Jaffrey-Rindge chapter of Rotary International. Dr. Birge holds a Ph.D. in Leadership Studies from Gonzaga University, an M.Ed. in Guidance and Counseling from Plymouth State University, and a B.S. in Elementary Education from Westfield State College.
---
Hon. Andrew H. Card (2014-2016)
The Honorable Andrew Card has enjoyed a distinguished career, beginning in the mid-70s when he was elected to the Massachusetts State Legislature. A few years later he was tapped by President Ronald Reagan to serve as deputy assistant to the president and director of intergovernmental affairs. Card later served in President George H. W. Bush's administration as assistant to the president and deputy chief of staff, where he managed the daily operations of the White House. He would go on to be the 11th U.S. secretary of transportation before being selected by then President-elect George W. Bush to be White House Chief of Staff, a position he held for nearly six years, making him the second longest serving chief of staff in modern history.
Card was acting dean of the Bush School of Government and Public Service at Texas A&M University, a position he held for several years. He was also executive director in the Office of the Provost.
A native of Holbrook, Massachusetts, Card is very familiar with Franklin Pierce University. He previously served on the Franklin Pierce Board of Trustees, helping to develop the university's program in mass communication, named after fellow Franklin Pierce trustee, Marlin Fitzwater. He is the recipient of many honorary degrees, including one from Franklin Pierce University in 2002.
---
Dr. Kim Mooney (2016-present )
Dr. Kim Mooney '83 assumed the post of President on August 1, 2016, the first female and the first alumna to serve in the role. Her commitment to Franklin Pierce University spans several decades, from being an active alumna to serving on the Board of Trustees for seven years, then as interim president prior to serving as provost and vice president of academic affairs for another seven years.
Under her leadership as Provost and then President, Franklin Pierce has accomplished significant milestones identified through a rigorous strategic planning progress. The general and liberal education curriculum at Franklin Pierce has been strengthened. The University has launched the College of Business integrating undergraduate and graduate business studies, and providing accelerated pathways to advanced degrees. Applied Health programs have expanded at our locations in Manchester, Lebanon and Portsmouth, New Hampshire and Goodyear, Arizona. Business partnerships that benefit both Franklin Pierce students and the local economy are a top priority.
A proponent of shared governance, Dr. Mooney has inspired an exciting new era of evolution at Franklin Pierce under the guiding principles of collaboration, communication, and community. President Mooney has infused the University with a spirit of innovation, encouraging faculty and staff to imagine new ways to engage and educate through experiential learning, research, internships, co-ops, and volunteerism in preparation for life on the other side of a university degree.
Prior to coming to Franklin Pierce, Dr. Mooney enjoyed a rewarding career at St. Lawrence University in Canton, NY as a psychology faculty member. During her twenty-year tenure at St. Lawrence, she was the Associate Dean for Faculty Affairs, the Founding Director of the Center for Teaching and Learning, and the Special Assistant to the President for Assessment.
Dr. Mooney served on the Franklin Pierce University Board of Trustees from 2002-2008 and as Chair of the Academic Affairs Committee. She holds her Ph.D. in Social Psychology from the University of New Hampshire, and received her B.A. from Franklin Pierce University in Psychology and English, magna cum laude.