Safety & Security
The Department of Campus Safety is responsible for the protection of both persons and property. Officers patrol the Rindge Campus buildings and grounds around the clock and are always available to assist students, faculty, staff and visitors. The Department is also responsible for providing crime awareness education programs, issuing ID cards, and administering and enforcing parking regulations.
---
The department publishes and distributes crime statistics and security policies annually in compliance with the Campus Crime and Security Awareness Act of 1990. Copies of the publication areavailable online, at Campus Safety in the St. Peter's Building, in Admissions, and in Human Resources.
Important Information
Services Provided by Campus Safety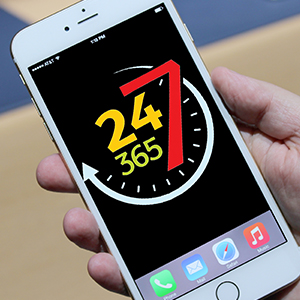 The St. Peter's Campus Safety Building provides a direct link to law enforcement, emergency medical and fire services, and other campus services. The dispatch center is staffed 24 hours a day, 365 days a year. The dispatcher also operates the main switchboard which connects outside calls to every department and campus community member.
Students can use the Safe Ride service or use the Campus Shuttle during normal operating hours for a safe way to get back to your residential housing. Campus Safety escorts are available any time a student feels more comfortable having an officer accompany him or her back to a residence hall room or vehicle. This service is provided free of charge.
Students who operate a vehicle on campus must have it registered with Campus Safety to avoid fines and possible towing. There are designated
parking areas
for students on a first come, first served basis.
This is a program to deter theft of valuable property or help ensure its return. Students can bring their item(s) to Campus Safety to have the item engraved with an identification code.
Students and employees occasionally get locked out of rooms and offices. Residence Life staff can unlock student rooms during normal duty hours. Campus Safety should be notified for lock-outs at other times. In the case of a lost key, students should notify the Residential Life Office.
Campus Safety provides education to the community through programs that assist students in protecting their environment, property and fellow community members. Examples of seminars that have been conducted include RAD (Rape Aggression Defense) and a Winter Car Care Clinic.
Response to fire emergencies is provided by the Franklin Pierce University Fire Department, which is housed on campus, and the Rindge Fire Department. The Franklin Pierce University Fire Department, run by student volunteers, responds to all fires, fire alarms and hazardous materials incidents with the Rindge Fire Department.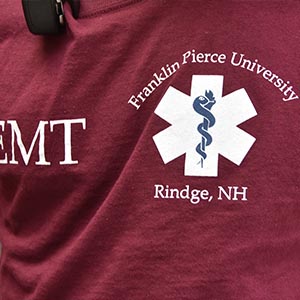 The Franklin Pierce University EMT Squad
, under the direction of the Director of Health Services, provides response to medical emergencies. Nationally registered student volunteer EMTs are available for emergency medical assistance during hours when the Health Center is closed. Jaffrey Ambulance and Rindge Fire and Rescue provide emergency transportation when needed and is the primary response unit when the EMT Squad is out of service.
Incidents identified as Residential Life or Maintenance related will be referred to the on-call personnel in the specific department needed. Maintenance problems affecting the safety and security of the campus are given high priority. Facilities personnel are on-call around the clock to rectify problems that present an immediate compromise to safety.
The Franklin Pierce Community
The Franklin Pierce University community is dedicated to the free and open examination and exchange of ideas in the pursuit of knowledge. This requires mutual trust among its members and a common respect for the rights, dignity and integrity of each person. This ambition is embraced in the University's Student Code of Conduct and the Honor Code.
Franklin Pierce University is located in the Town of Rindge, a quiet rural community. Because of our rural environment, we are not subject to all of the problems of a city campus, however we are also not insulated from crime. We urge all community members to be aware of the potential for crime and to take steps to prevent it.
The safety and security of our students, faculty, staff and guests is a priority at Franklin Pierce University and the Campus Safety Department provides a variety of programs and services aimed at achieving this. Campus Safety operates 24 hours a day, seven days a week and is responsible for the protection of life and property, responding to calls for assistance, facilitating the movement of persons and vehicles around campus and documenting activity that violates state and federal laws or campus policies. We commit our efforts and design our operation toward preventing and detecting crime, providing service to students, faculty, staff and guests, ensuring compliance with the policies and regulations of the university, the ordinances of the Town of Rindge and the laws of the State of New Hampshire. No safety program, regardless of its depth or breadth, can anticipate or prevent all crime.
Franklin Pierce University does not discriminate on the basis of race, color, religion, gender, age, national or ethnic origin. The University is an equal opportunity employer and encourages minorities and women to apply, both in terms of employment and to all the rights, privileges, programs and activities generally accorded or made available to its students. Inquiries concerning discrimination should be referred to the Director of Human Resources, DiGregorio Building at Franklin Pierce University.
Reporting Crimes and Emergencies
All members of the Franklin Pierce University community and guests to the campus are encouraged to report emergencies and suspected criminal activity to the Department of Campus Safety immediately. It is the practice of the Student Affairs Office and Human Resources to contact Campus Safety when crimes or emergencies are reported to those offices.
Campus Safety maintains an EMERGENCY phone number for immediate emergency assistance. Emergency phones, many with the "blue light phone" are located throughout campus for this purpose.
CAMPUS SAFETY: (603) 899-4210
Rindge Police: (603) 899-5009
File a crime report in person at the St. Peter's Building, University Drive, Rindge, NH.
When Reporting a Crime or Emergency
Remain calm.
Give the location of the incident - building name, room number, parking lot name.
Identify yourself and give a call back telephone number. Your identity will remain confidential, if you wish, however it is important we be able to contact you if we need additional information.
State the incident you are reporting i.e. theft, medical emergency, etc.
Describe the scene - who and how many people are there, if medical treatment is being given, description of subjects, etc.
State the subject's direction of flight, if applicable.
Stay on the phone until the dispatcher has recorded all of the information.
Confidential Reporting
While it is preferable for reports to be made directly to Campus Safety, we understand that some victims may choose not to speak with an officer. Therefore, victims may report a crime to one of the following people, who will then report to Campus Safety on their behalf:
A confidential "Third Party Report" with information regarding the incident will be completed, however, no names or identifying information will be used without the consent of the victim. The "Third Party Report" will be forwarded to the Director of Campus Safety. No follow-up or investigation will be conducted without the consent of the victim. Although Outreach personnel are precluded from mandated reporting of criminal incidents, they are encouraged to use the "Third Party Report" with the consent of the victim. Download the confidential report form.
Sexual Assault Information
Franklin Pierce University is committed to creating a community free from violence. Sexual assault, sexual harassment, domestic violence, dating violence and stalking as defined by State and Federal laws and will not be tolerated at Franklin Pierce University. We believe that every individual has the right to be treated with dignity and respect and we support the creation and maintenance of a safe and positive living and learning environment.
Related Links:
Campus Facilities and Residence Hall Access
Franklin Pierce University buildings, grounds and parking areas are private property. Community members may use campus facilities for advertised public events or as members of the University's athletic complex. Students' guests must register online as a guest of a currently enrolled student. Persons visiting a specific department or facility should stop at Campus Safety to obtain a visitor pass. All vendors must be registered at Campus Safety with the approval of Student Activities or the host department. Unauthorized persons found on campus will be deemed trespassers and may be subject to criminal prosecution.
Administrative buildings are secured at the earliest possible hour, given their projected use each day. Exterior doors to residence halls are locked 24 hours a day, except those residence halls which also house meeting space or offices, which are unlocked during times the area is in use or the office(s) are open. Exterior residence hall keyways are changed annually. Campus Safety Officers and Residence Life staff periodically patrol campus to check for propped doors, as well as other safety issues.
Some areas on campus, such as computer rooms and studios, are restricted from access without authorization. Authorization must be in writing from the person in charge of the area and must be on file at the Campus Safety Office prior to access being granted. Valid FP identification is necessary to confirm authorization for access. Campus Safety reserves the right to give or deny access to any area in case of emergency.
Faculty, staff and students are required to carry the Franklin Pierce ID card at all times while on campus. The ID is required to check materials from the library, eat in the dining commons (for students on the meal plan) and use athletic facilities. Identification must also be presented to a Campus Safety Officer or other University official, upon his/her request in accordance with the Student Code of Conduct. Franklin Pierce ID cards are issued through Campus Safety and replacements can be obtained throughout the year at the Campus Safety Office (fee must be paid to the Office of Student Financial Services).
Authority and Relationships with Other Agencies
The Officers of the Franklin Pierce University Department of Campus Safety, acting as agents of the University, are authorized to enforce policies and regulations of the University and to refer those individuals in violation to the Director of Campus Safety and the Assistant Dean of Student Affairs. Officers do not have sworn police powers.
The University maintains a cooperative relationship with the Town of Rindge and Campus Safety Officers work closely with law enforcement from the Town. Campus Safety periodically works with state and federal organizations on investigations, programs and training.
Annual Crime Report
The Director of Campus Safety compiles the information for the (Clery) Crime Report and is responsible for its publication. Statistics for crimes that occurred on or near campus are gathered from the Department's incident reports and a request is made to the Rindge Police Department to supply information regarding alcohol, weapons and drug arrests in the area surrounding campus. The Director of Residential Life and Assistant Dean of Student Affairs compile statistics on disciplinary referrals for drug and alcohol violations, which are provided to the Director of Campus Safety for inclusion in the report. It is the practice of the University that all incidents reported to other offices be reported to Campus Safety for documentation and follow-up.
The annual report is prepared at the close of the academic year, however statistics reflect activity that occurred during the previous calendar year.
Crime Awareness and Prevention Programs
The Department of Campus Safety believes that crime awareness is the key to crime prevention. The following services and programs are provided by Campus Safety and Student Affairs to educate community members:
This program is conducted at the beginning of the Fall and Spring semesters for incoming Freshmen and Transfer students. It provides an introduction to the Department of Campus Safety and its services and basic crime prevention information.
R.A.D. is a 12-hour self-defense program for women only. A nominal fee is charged for class materials.
The Department invites local law enforcement, fire service and health agencies to provide information regarding crime awareness and general health and well being. The Fair usually takes place during October, which is national Crime Prevention Month.
Campus Safety personnel participate in and provide training during Resident Assistant orientation and at various times during the year. Training has included crisis management, alcohol and drug awareness and crisis intervention.
Programs on rape awareness and romantic behavior are conducted through the Residential Life Department staff and advise the students what to do should they become a victim. An introduction to the R.A.D. class is included.
Campus Safety personnel are involved in Residence Life programs regarding drug and alcohol awareness.
Crime Alerts are issued when a crime or pattern of crimes or other activity has occurred which present an immediate and significant danger to the Community. Crime Alerts are sent out as a "Raven Flash" e-mail, are posted on those areas affected and notification made to Residence Life staff, if applicable. Campus Alerts are issued to advise the Community of relevant information in other areas of concern, i.e. weather or storm advisories, traffic advisories, potential or real power outages, etc.
Persons wishing to provide anonymous information regarding an incident may call Crime Stoppers at 899-4100/2795 (CS). Messages are picked up during normal business hours.
CONTACT Campus Safety & Security