Pierce Magazine
Spring 2023 Issue
---
Review Past Issues
Select a Past Issue by its Cover
---
class notes
Latest Novel to be Published by Alumn
J.P. (Jay) Smith '70 latest novel will be published on September 7th, 2021, it is a psychological thriller titled, The Summoning. For more information on this novel and his previous works, see jpsmith.org.
An Alumn with His Son
Kyle Jacque '84 and his son, Joseph, in their men's league hockey gear. Both have been playing together for the past three years and sometimes on the same line. At times, Kyle's 57 year old legs keep up with the team, while Joey has played an excellent brand of hockey. Best to all in the Pierce family!
A Birth
Jaki (Gaudet) Selwyn '03 and her husband Chris welcomed daughter Charlie Mae in March.
Franklin Pierce Graduate Promoted to Commander
Douglas Quinn '02 writes: "I graduated from FPC back in 2002, and recently was promoted to the rank of Commander in the Navy. Not a typical career path at the school, but does relate to my Public Administration degree.
Jimmy McInnis '12 and I (Grace Ames '12) met in 2011 during our junior year at FPU and have been together ever since! We got engaged this past September and couldn't resist the opportunity to rep our alma mater during the engagement photo session. The wedding is planned for September 2019, and we already told our photographers to plan for a massive alumni group photo. Go Ravens! (Photo by Dave Soucy, A Photographic Memory).
A Graduate Publishes a Novel
J.P. (Jay) Smith '70 is coming out with his eighth novel, If She Were Dead, in January 2020, published by Poisoned Pen Press. More can be found at jpsmith.org
Earning Another Degree
Cheryl (Stottle) Childers '91, earned a MAAT (Master of Arts in Art Therapy) from Saint Mary-of-the-Woods College, in Terre Haute, IN this past December. Cheryl also had the honor of illustrating The Little Angel Gets a BIG Job for New York Times Best Selling, and award winning Author, Michelle Medlock Adams. Cheryl owns and operates Beauty for Ashes Counseling, LLC in Taylors, SC where she serves as a Licensed Clinical Social Worker and Certified Art Therapist. Cheryl also serves as a creative consultant for Elk Lake Publishing in Plymouth, MA. She and her family currently live in Greenville, SC.
Graduate Honored
Rev. Bruce D. Harrington '88 writes: "I was recently honored by being accepted into the Society of the Cincinnati, the oldest hereditary organization in the United States. Only descendants of commissioned officers who served in the Continental Army are eligible, which is passed down through lines of primogeniture. Through my genealogical research, I found that I could claim eligibility through my 6th great grandfather, Lt John Sawyer of Buxton, Maine, a QuarterMaster for the 8th Massachusetts Regiment at Valley Forge. I also serve as the Governor of the Washington Mayflower Society. Presently, I am in my 15th year teaching at Islander Middle School on Mercer Island, Washington."
Alumn Assisting Companies
Christian Brunel '95 is continuing to work helping companies navigate the various byzantine-level federal-regulatory complexities of their retirement plans (401[k], 403[b], defined benefit, etc), along with their required annual compliance testing & reporting. He holds the Qualified 401(k) Administrator ("QKA") designation already, and is studying to earn the Qualified Pension Administrator ("QPA") designation, both from the American Society of Pension Professionals & Actuaries, a part of the greater Retirement Plan Association (ASPPA & RPA, respectively). Christian lives in Neenah, Wisconsin with wife Jamie & their five children Jonah, 14, Nathan, 13, Sarah, 12, Eden, 6 & Norah, 3, where they had fewer than 12 inches of snow for all of the '17-'18 winter. He wonders how it went back home in New England this winter.
Jonathan Holmes '78 writes: "After a career in Personnel Management and Human Resource Management, Kathy, my wife of 37 years, and I are retired, and have a nice home on property filled with many trees and wildlife in a rural area of south-central Kentucky."
A Couple is Married
Tawni Turcotte '12 and Benjamin Shannon '12 were married on September 27th, 2017 in Bridgton, Maine.
A Graduate Persues Sports Medicine
Kori Bainton (FPC '07, FPU '13) graduated in 2007 from the Franklin Pierce Undergraduate Campus in Rindge NH with B.A. Biology. Kori completed Master of Physician Assistant Studies with Franklin Pierce Lebanon Campus in 2013 along with an ER Residency at Rhode Island Hospital in 2015. She spent the last 3 years working in Massachusetts and Rhode Island in Emergency Medicine. 2018 Kori moved to New Hampshire to start new job as PA-C with Dartmouth-Hitchcock Orthopedics and Sports Medicine Practice. She is very excited to pursue her passion for Sports Medicine and Orthopedics in practice. She loves NH and all the outdoor activities and opportunities it has to offer.
An Alumn Plays Hockey
Kyle (Doc) Jacque is living in Brockport, NY. Playing ice hockey year round, his 17 year old son will be a future teammate of his this summer. Kyle has been working at the Gannett Newspapers for the past 31 years, where he met his wife, Cathy 27 years ago. Kyle and Kathy's other son, Patrick, and his wife are the proud parents of two children (Grandparenting is new to Kyle.) Since 2013, the family has taken their 29 foot RV to various campgrounds and enjoying the sites. Each year, they meet up with Jim and Holly Toteno (classes of 1985 and 1984 respectfully) in the Adirondacks. Big shout outs to Clifford Pellegrine ('86), Bill and Deb Paskowski ('84), Jody Heyl ('84) and the "Baddest," Doug Amada.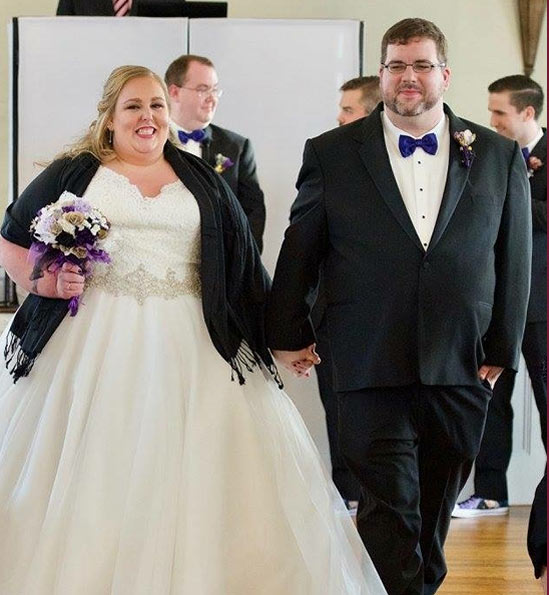 A Graduate Marrys a Best Friend
Barbara Fairweather '08 writes, "2017 was definitely an exciting year. October of 2017 I married my best friend Robert L. Sullivan III. I was lucky enough to have celebrated my special day with all my family and friends at Exchange Hall in Acton, Massachusetts. Two of my best friends also Franklin Pierce Alumni Christine Nickelson ('08), and Amanda Dempsey ('06) were two of my bridesmaids.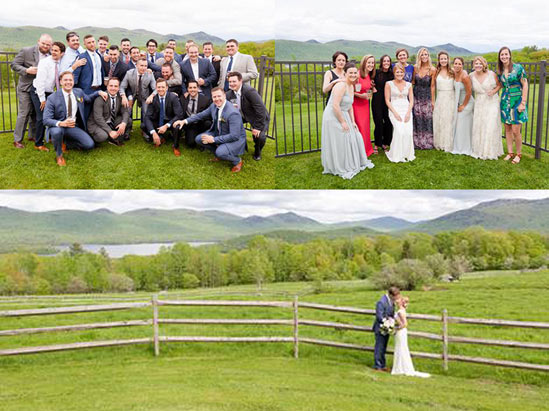 Another Alumn Marrys
Kelly and Coursen were married in May 2017 at the Mountain Top Inn in Chittenden, VT. Kelly received her MBA from Wagner College and is a senior marketing manager at Nestle Waters, focusing on communication brand planning. Coursen received his MD from the Penn State University College of Medicine and is now a pediatric resident and Captain in the US Army at Walter Reed, with a research focus on the diagnosis and management of childhood leukemias. The two recently bought a house in Silver Spring, MD and are the proud parents of their beloved furbaby, Izzy.
A Graduate Becomes An Author
Renee Beauregard Lute '10 is releasing a chapter book series called Winicker Wallace, and it is geared toward children ages 8-12. Her publisher is Calico, an imprint of Magic Wagon, a division of ABDO, and her publication date is December 15, 2017. She is represented by Cindy Uh of Thompson Literary Agency, and the cover of her first Winicker book, Winicker Hates Paris) is included in the image to the right. The four books of the series are: Winicker Hates Paris Winicker and the Baby Wait Winicker and the Christmas Visit Winicker and the American Boy
An Alumn Writes His First Novel
Steven Szmyt just released his first novel entitled "The Kingdom" It has had great reviews and he iscurrently working on the follow up. Steven is still living in Portsmouth NH with his wife Stacey and two daughters.
Celebrating Success
An article by Randell Kennedy, Class of '85, was featured in the October issue of the Public Relations Society of America's monthly publication PRSA Tactics. "Academic Vision: Serving Campus Leadership as an Effective Communicator" offers insights on how higher-education communications professionals can adopt best practices to tell their most strategic stories. Randy, a graduate of the University's Mass Communications program and recipient of the 2013 Marlin Fitzwater medallion by an alumnus, is president of Academy Communications, a Boston-area consulting firm that helps colleges and universities across the country with media outreach.
Graduate Handles Global Communications
Tony Catinella '09 was hired as a Public Relations Manager of the leading IP software company, Anaqua in Boston, MA. In this capacity he manages all of the company's global communications, media relations and social media. He also just got engaged to his girlfriend of 4 years, Megan, and the two are expected to marry next June, with many Franklin Pierce alumni in attendance. Mr. Catinella graduated from Franklin Pierce summa cum laude with a BA in mass communication, a concentration in journalism, and a minor in advertising. While there, he served as editor-in-chief of the University's Pierce Arrow newspaper, was an editor for the Exchange online newspaper, a member of the FP TV and radio stations, and was a Resident Assistant during his Sophomore, Junior and Senior year.
An Alumn Retires
Maurice Bellerose '83 is retired and living in Southeast Colorado with his wife, Claudette.
Graduate Selected for NCAA Ice Hockey
David St. Lawrence '06 concluded his 2016-17 NCAA Ice Hockey season with his second straight selection, to the NCAA Men's Division - III Ice Hockey Championships (in Utica, New York). David was a linesman in the National Semi-Final game that placed St. Norbert's College of Green Bay, Wisconsin against Trinity College of Hartford, Connecticut. David was also selected in the 2015-16 season, as a linesman, to officiate in the National Semi-Finals (in Lake Placid, New York) that placed St. Norbert's College of Green Bay, Wisconsin against The University of Massachusetts-Boston of Boston, Massachusetts. David thanks not only his wife, (Jenna (Marszalek) St. Lawrence (2007-Rindge), but also their 2 children, Nolan & Nora, for letting him pursue this hobby, to a high level. David worked both of these games and four additional Men's NCAA D-III Play-Off Games over the past 3 seasons with his brother Michael St. Lawrence. Their main body of officiating work is in both NESCAC (New England Small College Athletic Conference) and NEHC (The New England Hockey Conference) hockey leagues throughout the regular season and into the respective conference play-offs. This was David's 8th season of officiating NCAA Ice hockey (11th year officiating overall). He is an Assistant Credit Manager for The Sherwin-Williams Company. He, Jenna, and their children reside in Westfield, Massachusetts.
A Graduate Passes
Following the memorial service for Bill Wittenberg, the 1966 class president and FPC friends gathered in Rindge, NH. Pictured are Dave Groder '66, Ron Savarese '66, Dan Snell '67, Vinnie Donnelly '67, John Burke '66, Dave Wilson '77, and Chet Monroe, boyhood friend of Bill Wittenberg.
An Alumn Reminesses
Gilbert Peck '67 reports, "2016 was a great year for the Gil Pecks. We love living in the mountains of North Carolina. We have been blessed with good friends, good health and cool weather. Florida was just so hot in the summer. Family and grandchildren continue to parade to grandma and grandpa's. Did I just say that! Wasn't last year 1967? 2017 finds us looking foward to travel and hopefully a stop at FPC campus. As we grow older, we realize how important and rich those "Pioneer Years" meant."
Celebrating Success
Sharon Lyn Stein '71, EdD; (IMDB) from Rancho Cucamonga, CA. I majored in theater and minored in English and both of those degrees have served me well and led to a master's and doctorate degree in education with an emphasis in the visual and performing arts. Besides co-chairing with Henry Ellis on the social committee that lead to that wonderful winter carnival with Janis Joplin, I took part on many committees at Franklin Pierce. My education has led me to make a living from teaching and the performing arts. I'm a member of SAG-AFTRA and Americans for the Arts. Every year for the past four years I have been performing for an equine therapy organization for special needs kids. This year we did a Cole Porter review and I won best actress award, and it all started with Franklin Pierce. I was in Matt Berman's film "The Wedding Pact" as well. Matt Berman is a Franklin Pierce alumnus. I also have been a West Coast chapter leader for many years, bringing California alumni together for many events through many Franklin Pierce presidents over the years. I love my alma mater and will always be grateful for the education, friendships and knowledge I received there. Thank You Franklin Pierce University! "
A Graduate Visits
Charlie Mann '72 reports, "2016 was a year of many surprises and blessings. First of all I had the privilege to revisit my alma mater, FPU. It was such a great time and so inspired me to return in June 2017 for the Reunion. I look forward to see many of my old friends from 1968-1974. At Celestial Manna, where I am Founder and Executive Director, we had the resources to provide fresh daily food to tens of thousands of food insecure people throughout the year. Please check us out at www. celestialmanna.org and on Facebook. I can't wait to see and hear from you all soon."
An Alumn Gives His Regards
Neil Epstein '74 writes, "I fished recently with my sons, Lon and Marshall, in Marathon, FL. Regards to class of '74. I hope all are working on their bucket list (mine is still long). By the way, for those who went to Patillas, Puerto Rico, I hear it still looks the same as it is now a preserve. Check it out on Google."
Celebrating Success
Peter R. Taylor '69, owner of an executive search firm specializing in corporate real estate for major Fortune 500 companies throughout the United States since 1978, is now semi-retired with residences in New York City and Hanover, NH. His daughter is a Holy Cross graduate and attorney residing in Connecticut with two young children. His son is a Rutgers graduate having led the NCAA division one Scarlet Night fencing team and is currently residing in Philadelphia.
Wintering in Florida
Philip Bruno '70 writes, "Snowbirding down to Boynton Beach, Fla...wahoo. Winters in New England aren't the same since I left Pierce in 1970."
A Meet and Greet
Marcy (Pollock) Fink '73 and Art Fink '72 were so excited to host their third "Meet and Greet Get Together" for our FPU Ladies Bowling Team when they competed in a tournament in November in Delaware. Team members, coaches, parents and local alumni had a great time socializing, with plenty of good food and laughs. They are looking forward to hosting the team again next year when they return to compete in Delaware. "Go Lady Ravens!"
A Graduate Returns (PHOTO)
Kevin Shaughnessy '76 writes, "I am leaving Florida to return to New England. I think I am just missing all the activities and people I have known." Karen (Eisenberg) Goldberg '79 writes, "FPC Alumni from the '70s and '80s had a little get together this past October in Port Chester, NY at the Rye House. A fun time was had by all. Looking forward to the next get together."
Once A Student, Now A Teacher
Tony Jones '85 reports, "I am teaching biology and chemistry at Montclair Kimberley Academy where I have been since 2000. I am also the 12th Grade Dean and varsity boys basketball coach. I have been married for 27 years. I have a a son (Brandon) and two daughters (Breanna and Brittany)."
Owner of a Restaurant
Robyn Thibodeau '87 writes, "I own a seasonal beachfront restaurant on Cape Cod. If you are down on vacation, stop by and say hi. (www.sailingcow.com). I live in Mashpee, MA and work for TIAA as a senior program manager."
Start of a Career in Healthcare
1995 Kathy (Stinchfield) Knapp '95, graduated from school in May 2016 after three years of schooling in Radiography with High Honors (3.87 GPA!). She is employed at Southern Maine Health Care, a trauma II hospital, in Biddeford Maine as a radiologic technologist working nights in the emergency room taking x-rays on trauma patients. She writes, "Absolutely love the decision I made to go back to school at 40 years old and change my life! I am married with two boys ages 12 and 13 years old. I was very proud to show them what Mom can do!"
---