Franklin Pierce University Honors Aaron Mair with Fitzwater Medallion
Sep 15, 2023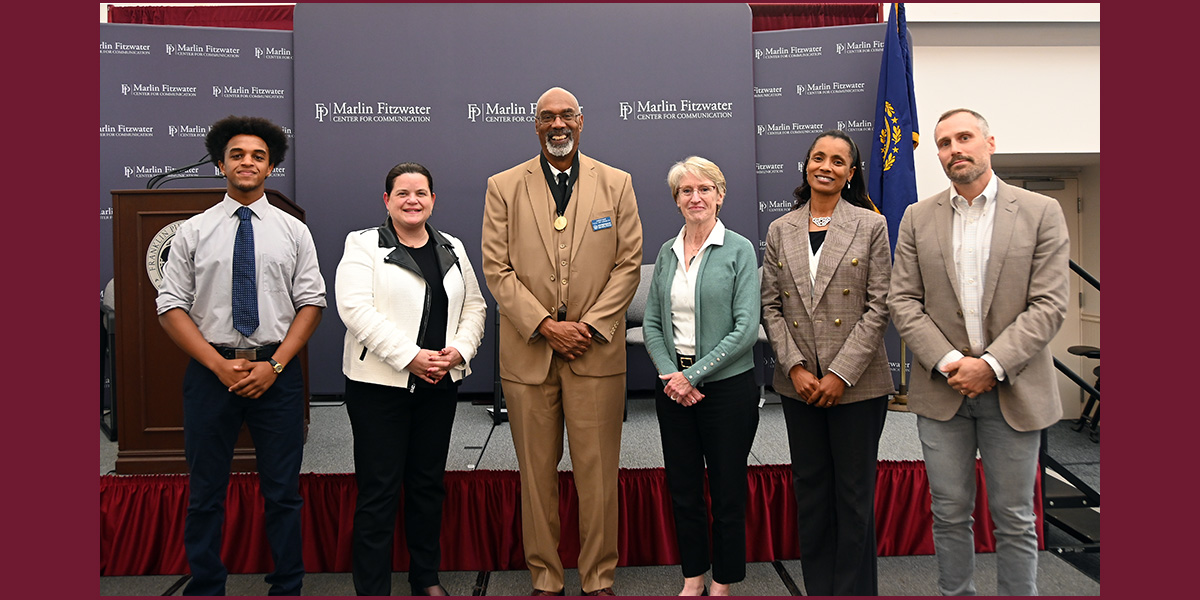 Franklin Pierce University held its Fitzwater Center Honors ceremony on Thursday, September 14 on the Rindge Campus. Established in 2004, the Fitzwater Honors is the hallmark event of the Marlin Fitzwater Center for Communication at Franklin Pierce University.
Environmental justice pioneer Aaron Mair was awarded the Marlin Fitzwater Center for Communication Fitzwater Medallion for Leadership in Public Communication. Mair, a former president of the Sierra Club, has worked over the last 40 years in the spaces of health, environment, climate change disparities, and wilderness protection.
"I am grateful to the students, faculty, and trustees of Franklin Pierce University for using the Fitzwater Medallion to assist in the fight to curb climate change and promote environmental justice," said Mair. "I hope their example encourages other leaders at institutions of higher education to embrace the need for climate action and social equity. I thank them for recognizing my humble contribution to those noble causes and inviting me to share the afternoon with them, discussing the future."
Mair currently serves as the Campaign Director for the Adirondack Council's Forever Adirondacks. He joined the Council in May 2021 after working as a public health epidemiological spatial analyst for the New York State Department of Health. Mair has long been active in local, regional and national environmental causes, working to preserve wilderness and curb climate change, among many other issues. In 2015, he was elected as the 57th President of the Sierra Club, serving as the organization's top official on national and international environmental issues. Mair was the first African American to hold that post.

"A look at the today's headlines clearly shows that our fellow humans are suffering," said Dr. Catherine Paden, Provost and Vice President for Academic Affairs. "Earth is, by many measures and accounts, facing a tipping point. Mr. Mair has long been warning of this, and it we haven't already, we need to stop and listen."
Following the ceremony, Mair delivered a lecture, "Intersectional Movement Building in the Climate Crisis" and participated in a discussion moderated by alumnus Stephen Lacey '06 and current student Spencer Murray '26.
"We have to act [on climate change] and we have to act urgently in a way that serves all of us," said Mair to the nearly 100 members of the Franklin Pierce community and guests in attendance.
This fall's ceremony is an extension of the spring Fitzwater Honors which recognized other leaders in the fight against climate change, including Lacey, Mara Hoplamazian, and the Granite State News Collaborative's Environmental Justice Reporting Team.
Lacey is a veteran business journalist, editor, and audio producer. He is the executive editor and co-founder of Post Script Media, a media company focused on telling climate stories at the intersection of tech, business, and culture. Hoplamazian leads NHPR's climate change reporting project, By Degrees. Their extensive reporting seeks to explain "the science and – and the historical context – of our changing climate and why it's impacting Granite Staters in unequal ways." The GSNC is a collective of more than 20 local media, education and community partners working together to produce and share news stories on the issues that most impact New Hampshire and its communities. Under the leadership of Melanie Plenda, a 2022 Fitzwater Medallion honoree, the Collaborative has won numerous awards and recognition for their focus on inclusive and responsive coverage.
Named for the national press secretary for two U.S. Presidents, the Marlin Fitzwater Center for Communication at Franklin Pierce University was founded in 2002. The Fitzwater Center's facilities enable Franklin Pierce students to write, film, edit, and produce programming for student-run television, radio, print, and digital media outlets. In addition to supporting the hallmark goal of Franklin Pierce University —preparing students to be confident, knowledgeable citizens and finding their voice in the public discourse — the Marlin Fitzwater Center for Communication is dedicated to educating leaders of conscience in public communication, from the town hall to the nation's Capital.
The recording of the Fitzwater Honors Ceremony will be available for viewing here.
---