Sustainability
We care deeply about the climate. In 2007, Franklin Pierce University joined other higher education institutions committed to climate neutrality by signing the American College & University Presidents' Climate Commitment (ACUPCC).
---
Our Commitment to the Climate
Our strong commitment to the environment is deeply rooted in the rich, natural setting of our main campus in Rindge.
With over 1000 acres of undeveloped forests, fields, wetlands, and lake shore, the land provides excellent opportunities for experiential learning about ecology, as well as the impacts of humans on the natural world. FPU's climate commitment was first set in motion by Franklin Pierce's Ecological Conscience Initiative. It was endorsed by President Gorge Hagerty and garnered full support of faculty in 1998.
This initiative affirms that ecological conscience is a collective awareness of the effects of our actions on all aspects of the ecological community. It is a demonstrated respect for that community. FPU is also a member of The Association for the Advancement of Sustainability in Higher Education (AASHE) and has been represented in AASHE conferences and publications.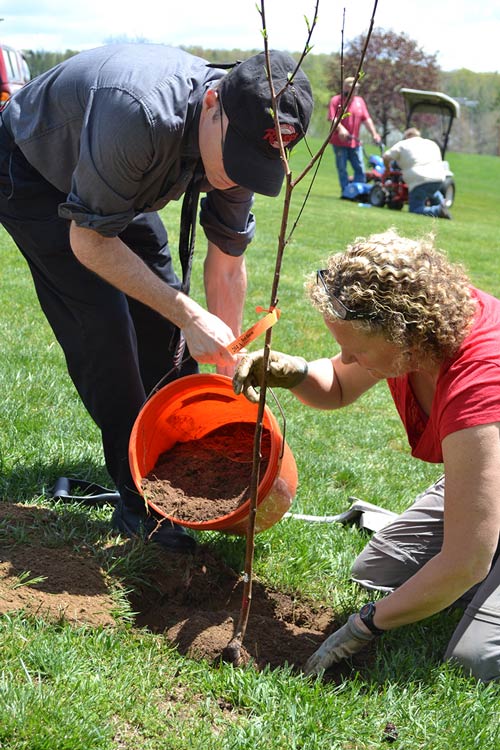 Working Together Saves the World
By helping individuals develop an ecological conscience, we help them learn how to live well while also minimizing their impacts on the community. This allows an opportunity to become part of a sustainable society.
Climate Neutral by 2050
We finished our Climate Action Plan in 2010. It outlines the steps we intend to take to become climate neutral by 2050. Some highlights of our plan include are outlined below.
Energy auditors work with faculty, staff, and students to research potential energy savings in every building on the Rindge campus.
Heat most of the Rindge campus with certified, sustainably harvested wood biomass, mostly grown in Maine and New Hampshire.
Smartstrips are a sophisticated type of power strip that can allow some devices to stay on while turning others off. Using this simple technology across the campus saves money and reduces greenhouse gases.
Reduce electricity use by individuals turning off computers, lights, and other appliances.
Working with the Town of Rindge, we erect a meteorological tower to determine if any site in the town has sufficient wind to make it economically feasible to produce electricity from wind energy. We explore installing photovoltaic panels on our newest academic buildings.
Student volunteers in each dorm serve as "Eco-rangers" to help implement Sustainability Council recommendations in the residence halls, including recycling properly, reducing waste on Move-out Day, reducing electricity use, using smartstrips, and so forth.
The new Sustainability Certificate program makes it possible for students in any major to become part of the new "green revolution" by studying, designing, and implementing their own sustainability project on campus or in the local community. 
Sustainability Council
The Sustainability Council meets monthly to discuss and act on campus-wide issues that affect the "triple bottom line" of sustainability. Serving on the Sustainability Council represents a special opportunity for students, whose energy and leadership are always needed and valued.
What is the Sustainability Council?
To fulfill our commitment to climate neutrality, Franklin Pierce's Ecological Conscience Initiative grew into the Sustainability Council, which leads a campus sustainability effort.
The Sustainability Council works with the Sustainability Center and various groups to offer events for the entire campus community, such as:
Campus Sustainability Day (each October)
Earth Week (each April)
Energy Conservation and Recycling Contests
Guest Speakers
Film Festivals
Zero-Waste Move-Out Days
Its monthly meetings are listed on the campus Calendar of Events. Council work also happens between meetings, and new members are always welcome.
Current members of the Sustainability Council:
Prof. Catherine Koning, Environmental Science
Verna DeLauer, Environmental Studies
Prof. John Harris, Monadnock Institute of Nature, Place & Culture
Jim Bingham, Information Technology
Doug Lear, Director of Facilities
Michael Mooiman, Director of the MBA in Energy & Sustainability Studies
Doug Carty, Adventure Recreation
Student Government Association and Class Representatives
Represented offices include Facilities, Purchasing, Finance, Environmental Services, Residential Life, Information Technology, Environmental Sciences & Environmental Studies programs, Monadnock Institute of Nature, Place and Culture, Student Affairs, and more.
We act in the following areas to reduce our carbon footprint:
Energy and land protection
Purchasing and printing
Sodexo food services
The following tabs contain additional information regarding our sustainability in action.
Solar Power
Franklin Pierce added solar panels to the Fieldhouse
SOLar power
In 2021, Franklin Pierce added a 162 KW solar array with 490 solar panels to the Fieldhouse and installed an electric vehicle charging station on campus.
CO2 savings: 195,624 lbs or Gallons of gas not burned: 9,981
Passenger cars removed from road: 19
Gallons of propane not burned: 15,409
Pounds of coal not burned: 2,135
Paddle to your Next Adventure
Pearly Pond may be a shallow lake in depth, but it's deep with possible adventures!
Picturesque Pearly Pond
Pearly Pond is a 191-acre lake in Rindge, NH. Most of the watershed for Pearly Pond is undeveloped. Franklin Pierce University and 52 residences are located near the lake.
It is a shallow lake, only 17 feet deep at the deepest point, and averaging 7 feet deep. There is no public boat access. The Franklin Pierce beach is open to the public and there is a lifeguard on duty from noon to 5 on most summer days.
It supports a variety of warmwater fish, including largemouth bass, chain pickerel, yellow perch, pumpkinseeds, horned pout, and others. Snapping turtles and Eastern painted turtles are commonly seen in the lake.
Otter, beaver, mink, and other wildlife species are also common. At least 72 species of birds have been seen on or near the pond.
What is the Pearly Pond Association?
The Pearly Pond Association (PPA) is a group of volunteers who work for the health and enjoyment of Pearly Pond.
Members of the PPA work with the NH Dept. of Environmental Services as part of the Volunteer Lake Assessment Program to monitor water quality.
The Purpose of Pearly Pond Association is to help:
Protect and improve Pearly Ponds' water quality, shorelines, and wildlife

Ensure all property owners are informed of federal state and local regulations and law

Monitor all actions of Pearly Pond property owners in relation to maintaining and improving water quality
The Pearly Pond Association owns the dam that controls the water levels and must maintain the dam and pay the fees to the Department of Environmental Services each year.
Answers to Frequently Asked Questions
The following sections provide additional information for commonly asked questions about sustainability and recycling.
Climate neutrality is defined as having no net greenhouse gas (GHG) emissions. This is achieved by minimizing GHG emissions as much as possible and using carbon offsets or other measures to mitigate the remaining emissions (President's Climate Commitment, 2009).
Use more active transportation like walking and biking instead of driving a vehicle.

Share rides. The CampusWeb Ride Share Board makes it easy!

Unplug electronic devices when not in use.

Use smart strips to power off multiple devices at once.

Recycle. Recycling reduces the need for new materials to be extracted from the earth, transported, process, and packaged, and reduces landfill waste that creates greenhouse gases and pollution. Recycling also helps protect wildlife habitat, which in turn helps keep CO2 out of the atmosphere. Participate in zero-waste move-out.

Donate your reusable goods instead of sending them to the landfill.

Grow your own food. The campus garden and campus greenhouse are a resource for food, learning, and community for all.

Participate in other learning and action events throughout the year.
Ecological conscience is a collective awareness of the effects of our actions on all aspects of the ecological community. It is also a demonstrated respect for that community. The ecological community includes people as well as other species, and the land, air, and water that sustain them. If we are concerned that future generations should be able to live happily, enjoy clean air and water, have a beautiful place to live, and continue as part of an evolutionary chain, then we must be responsible members of that ecological community. By helping individuals develop an ecological conscience, we will help them learn how to live well while minimizing their impacts on the community, thus becoming part of a sustainable society. (Ecological Conscience Initiative 1998)
The following items can be recycled in any recycling container or specially marked recycling dumpster:
Cardboard (wavy center layer) and boxboard (flat cardboard): NO PIZZA BOXES with any grease or food

Mixed paper (magazines, office paper, junk mail, etc.)

Plastic: #1 and #2 ONLY – Washed out, TOPS REMOVED. These have a little 1 or 2 stamped on the bottom and typically have narrower openings than bottoms, like water bottles, laundry, shampoo, milk jugs; NOT yogurt or most food containers

Aluminum and steel cans
At this time, we cannot put any of the following materials in the recycling containers:
No glass of any kind (our recycler can't sell it, so they won't accept it)

No plastic bags of any kind (not even bagged recyclables)

No plastic films, wraps, or trays

No Styrofoam of any kind

No coated paper such as waxed cups or milk cartons

No clothing or textiles (clothes can be recycled in the Planet Aid Boxes behind Marcucella and in front of Petrocelli)

No food waste or liquids of any kind

No batteries (Lithium ion/rechargeable batteries cannot be thrown into the trash, they must be taken to IT or Facilities for proper disposal)

No electronic waste (can be taken to IT for recycling)

No scrap metal (can be taken to Facilities for recycling)

No ropes, cords, other items that will tangle the sorting machinery
If you want to reduce your impact on the environment, try to reduce your use of disposable items. For example, bring your own reusable bag to the store, fill up your own reusable water bottle, etc.