Introducing the Institute
Franklin Pierce is stepping up to the challenge of climate change. The new Institute, which began operations in the fall of 2019, is dedicated to raising awareness of this challenge and promoting efforts to meet it, in the University curriculum and its culture, in campus operations, and in the local region and beyond.
A re-purposing of the former Monadnock Institute of Nature, Place and Culture, the organization's structure includes two components: the Campus Sustainability Council, focused on best practices in such areas as energy use and minimization of food waste; and the Community Climate Consortium, looking to create partnerships with other area organizations pursuing climate work.
---
Mission Statement
Global climate change poses an unprecedented, urgent challenge to the natural environment and to the quality, even the continuance, of human life. Franklin Pierce University's Institute for Climate Action seeks to raise awareness of this challenge and promote efforts to meet it. This aim will be pursued under the broad concept of sustainability and within three distinct but related mission areas:
Education
Aid in the conceptualization and development of curriculum and instruction, together with co-curricular programming, needed to prepare students to serve as responsible citizens and leaders of their communities, and where appropriate as trained experts, meeting the challenges of climate change.
Campus Operations and Culture
Assist in the planning, coordination, and assessment of best practices for climate action and sustainability in all aspects of campus operations, and take steps to build a campus-wide community attuned to the issues of climate change and actively seeking solutions, both large and small.
Outreach
Form partnerships with organizations and educational institutions in the local region and where feasible beyond with the purposes of sharing experience and expertise, opening internship opportunities for students, and building the strong networks needed to mobilize public will behind effective climate action.
Membership in the Institute is interdisciplinary, drawing faculty from all three of the University's Colleges, and is open to staff members, students, and local residents, as well. Much of the good feeling that prevails at our meetings, and much of the success of our initial ventures can be attributed to this democratic mix of participants, and in particular to the energy and dedication of our student members.
We welcome new recruits to the Institute, and the cause of climate action, at any time. Everyone, regardless of background, has something to contribute.
Coordinators
Dr. Jerry Burns, Prof. of English
Dr. Catherine Owen Koning, Prof. of Environmental Science
Members
Rudra Aryal - Assistant Professor of Physics
Jim Bingham -Assistant Director of Information Technology
Andrew Bloch - Visiting Professor of Biology & Environmental Science
Lisa Bomba - Lab Supervisor & Lecturer in Environmental Science
Jessie Bouley - Class of 2024
Tristan Burlingame - Class of 2023
Doug Carty - Director of Campus Recreation
Laura Christoph - Associate Professor of Health Sciences
Alexandra Contino - Class of 2021
Verna DeLauer - Associate Professor of Environmental Studies
Maria DePierro - Class of 2021
Erin Egan - Class of 2021
John Harris - Professor of English & Environmental Studies
Kassie Jaskolski - Class of 2020
Dena Kossakowski - Class of 2021
Paul Jenkins - University Librarian
Doug Lear - Director of Facilities
Alyssa Lewis - Class of 2021
Pat Martin - Monadnock Sustainability Hub
Michael Mooiman - Professor of Business & Management
Sammie Norwood - Class of 2023
Ayodele Ouhuru - Class of 2020
Rachel Ranelli - Class of 2024
Isabel Rasmussen - Class of 2023
Fred Rogers - Professor of Geology & Environmental Science
Stephanie Scherr - Class of 1997
Rhine Singleton - Professor of Environmental Science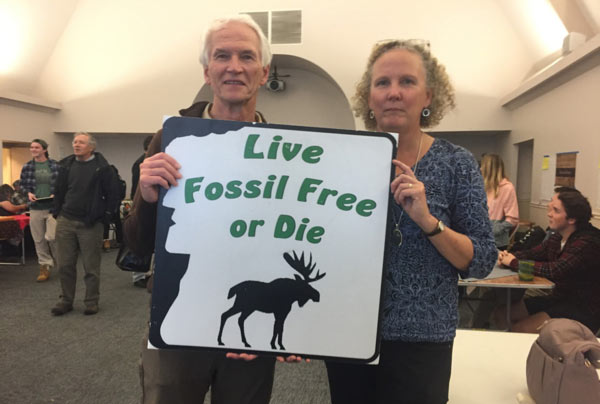 The Institute for Climate Action works as Subcommittees in the following areas:
Curriculum
Events and Communications (see Events and
Newsletters tabs)
"Green Fee" funding mechanism
Energy: Renewable sources, and Energy Conservation
Food: Plant-based Diet/Local Foods
Orientation for new students
"Road Show" – traveling educational campaign
Waste/Compost/Recycling on Campus
Curriculum
While FPU offers courses in environmental and earth sciences in major and minor courses as well as general education (GLE) that highlight climate issues, overall attention falls far short of the magnitude and the urgency of the "problem," and short also, of the increasing demand for more climate education on the part of a younger generation of students.
To date the efforts of the Subcommittee have focused on gathering information about practices elsewhere. Ayodele O'uhuru has discovered through her Senior Capstone research that some schools require climate issues to be addressed in every major, while others integrate climate into the general education curriculum.
Members of the Subcommittee are considering these two approaches, or perhaps a combination of both, as the best means of ramping up climate instruction at Franklin Pierce.
Green Fee funding mechanism
The goal of the Green Fee Pledge is to bring awareness to the commitment signed by the university stating it would help promote the research, education, and community engagement efforts needed to create a sustainable society, and to eliminate net greenhouse gas emissions from in campus operations. This Pledge would be given to all students in the form of a letter.
The fee would be $23.90, which Ayo O'uhuru (Class of 2020) came up with by adding $19.70, the year of the first Earth Day, plus $4.20, the day of the first Earth Day. The fees will aid campus-wide improvements such as: motion sensored lights, possible solar array, converting buildings to LEED, giving out orientation packages to all incoming students (reusable mugs, etc.), improvements to residential dorm bathrooms and kitchenettes, along with creating new job opportunity for students within residential life as an Ecorep.
Our next steps will be to craft the wording of the Pledge letter, and to present the plan to the Student Government Association board for student approval, then Student Financial Services.
Energy: Renewable sources, and Energy Conservation
The subcommittee for renewable energy and energy conservation on campus and in the community has begun to take action. Doug Lear, Director of Facilities at Franklin Pierce University, recently worked with consultants to conduct an energy audit, which shows how much energy the campus uses by building.
This audit focused on some of the larger buildings and measured electrical use. Results of this audit will be reviewed and necessary actions identified. This subcommittee will be updating the 2016 FPU Climate Action Plan and the Greenhouse Gas Inventory. We have also investigated other options, such as heating using purified waste vegetable oil.
Members of this committee are participating in the Monadnock Sustainability Hub's Community Power group, which is working with statewide organizations to be able to provide clean, green electricity to homeowners in the region through buyer's collectives.
The ICA worked with Director of Facilities Doug Lear to discuss locations for photovoltaic (PV) solar panels on campus, to generate clean electricity. In the summer of 2020, Doug approached Revision Energy about using a power purchase agreement to put 244 kW of PV on the field house roof; their proposal received preliminary approval from FPU and is slated for installation in Nov. 2020.
This will supply about 10% of FPU's electricity needs. Alyssa Lewis '21 and Hannah Cuzner identified two possible locations for two ground mounted installations totaling about 5 acres, which would generate 50% of our electricity needs on the Rindge campus!
The next step is to assess the ecological and social impacts of these large-scale photovoltaic projects, and to work with Revision Energy and other groups to investigate their affordability.
Plant-based Diet/ Local Foods
The plant-based diet subcommittee's goal is to create a more sustainable diet for the Franklin Pierce campus. In February, we met with Rebecca Hunt and John Benouski, Sodexo's dietitian and manager to develop an action plan. The goal over the next year is to offer more plant-based options, taking student suggestions into consideration, and provide education on preparing plant-based options both in the cafeteria and in dorm rooms/apartments.
To start the collaboration, Sodexo and the ICA teamed together for Wellness Wednesday where students created their own avocado toast, and learned more about plant based food choices.
Next, a video segment for the Academic Showcase was put together to introduce students to the benefits of plant-based eating for individual health, as well as the health of our planet, provide instruction on preparing simple and cost-effective plant-based meals and snacks in a college dorm room or apartment, and help students navigate healthy and sustainable choices offered on campus.
With the outbreak of Covid-19, and all institute efforts moving to a virtual platform, the Fitzwater Center approached Dr. Christoph to host a cooking show that showcases mainly plant-based options.
"Christoph's Kitchen" aired each Wednesday through April and May. Recently, the decision was made to continue the show throughout the summer, and two student hosts have been added to the show each week in order to better speak to the college students' experiences.
New Student Orientation
The main goal of this subcommittee is to find an effective way to make resources regarding climate awareness and sustainability available to the incoming class. Subcommittee members, Professor John Harris and student Tristan Burlingame, determined that the best way to present the information was through a short, engaging film rather than a live presentation.
The film would feature current students and would also show the outdoor opportunities that are available to our community such as: on and off campus hiking trails, guided walks, and nature restoration projects.
We intend to create resource material such as eco-friendly college supply lists to provide to students on the website.
"Road Show" - Traveling Educational Campaign
As part of an educational institution, the Institute for Climate Action is assembling a series of lectures and events designed to improve people's understanding of the climate crisis. We have created a flexible talk that could be tailored to each audience, ranging from middle school children to adults in the Rotary Club, the Women's Club and other civic groups that meet regularly but do not necessarily focus on environmental issues.
Prior to the COVID19 crisis, our intent had been to launch the lecture series in May 2020, but our target now is Fall 2020, either virtually or in person.
Fred Rogers, Jerry Burns, Catherine Koning, Pat Martin and Alyssa Lewis are involved with this subcommittee, please contact Fred Rogers at rogersfs@franklinpierce.edu if your group would like to learn about the climate crisis.
Waste/Compost/Recycling
Anything that gets thrown in the trash contributes to climate change! That is because our trash is either burned, producing carbon dioxide, or buried in a landfill, where it produces methane. Both carbon dioxide and methane are greenhouse gases that trap in heat, warming the planet and profoundly altering our climate.
So, we have to do everything we can to reduce the waste we produce.
This starts with REDUCING the items you buy, trying to choose items with less packaging, re-use your bags, etc.
We can also REUSE items rather than throw them away.
Finally, we all have to RECYCLE.
Recycling has become quite challenging since China stopped buying our materials. One of the reasons they stopped was that our recyclable material was very dirty and contaminated with items that can't be recycled; sorting and cleaning costs more money than they can make from recycling it. Plastic has always been difficult to recycle, and now there aren't enough companies who want it, so many towns are not accepting plastic. Aluminum, cardboard and paper are still commonly recycled.
The Institute for Climate Action is currently exploring ways to get the FPU community to REDUCE, REUSE and RECYCLE.
Upcoming Events
Watch this space for the next event! Fall 2021 the Institute will host an outdoor movie night, a Bingo night and other events to educate the campus and community about the climate crisis.
Past Events
May 2020: Online Academic Showcase Panel
Student members Tristan Burlingame, Kassandra Jaskolski, Ayodelé O'uhuru, and Victoria St. Jean conducted a panel discussion via Zoom on the topic, "From Covid-19 to Climate Change: What Can We Learn?"
Alyssa Lewis and Hannah Cuzner put together a poster outlining a proposal for ground-mounted solar. (see Energy page)
April 2020: Online Earth Day Celebration
Created by Institute students, Ayodelé O'uhuru, Kassandra Jaskolski, and Tristan Burlingame, the week long celebration was geared to virtually engage members of the Franklin Pierce community, with online presentations, facts and activities along with the official launch to the institutes social media platforms. On Earth Day, an University-wide Kahoot was played via zoom with more than 30 students in attendance.
February 2020: Lecture by Sam Miller
Dr. Miller, Professor of Meteorology at Plymouth State University, addressed an audience of 40 on the topic of "Community Development in a Time of Climate Crisis." He also met informally with Institute members and visited the Environmental Science Junior Seminar.
January 2020: New Hampshire Legislative Outlook
Sponsored by the NH League of Conservation Voters and hosted at FPU by the Institute, this preview of environmental and energy measures under consideration during the upcoming session of the state legislature attracted 30-40 policy makers and activists in the area, and members of the University community.
November 2019: Institute Launch
100 attendees were welcomed by University President Kim Mooney and offered a 3-part presentation on the climate issue by Institute faculty. Representatives from 15 local organizations set up tables and interacted with students, and discussion circles brainstorming ideas for climate action closed the 2+ hour event. The launch received extensive coverage in local media, including an interview with Catherine Koning on NH Public Radio.
December 2019: Franklin Pierce Sustainability Audit
Franklin Pierce University pledged to conduct a self-audit of its sustainability practices, according to the United Nations 17 Goals for Sustainable Development. ICA Co-Chairs Jerry Burns and Catherine Koning worked with VP Ken Ferreira to assemble a group of faculty, staff and students to see how University operations measure up in creating a learning and working environment that meets these social, economic and environmental standards.
October 2019: Sustainability Fair
Local farmers and crafters, as well as student artists and creators, marketed their wares in a Spagnuolo Hall event coordinated by senior Laurel Branco. Over 100 students, staff, and area residents participated and/or attended.
April 2019: Deliberative Forum
A dialogue facilitated by the New England Center for Civic Life, intended for the two purposes of promoting awareness of the climate crisis and weighing different options for the University to respond. Attended by 80 students, faculty, and staff, the forum promoted the formation of the Institute.
Spring 2021 - Introducing the Institute
Franklin Pierce is stepping up to the challenge of climate change. The new Institute, which began operations in the fall of 2019, is dedicated to a mission of raising awareness of this challenge and promoting efforts to meet it, in the University curriculum and its culture, in campus operations, and in the local region and beyond.
The Institute for Climate Action hires student interns every year.
Interns participate in two to three Action Areas (through subcommittees), and work together with the ICA group to plan and hold events, update social media, create newsletters, and create change!
This is a paid internship, and interested students should contact koningc@franklinpierce.edu for more information.
The Institute for Climate Action is honored to partner with and support the work of a number of wonderful organizations around the local area, the region, the state and the country to work on the climate crisis. A few of these organizations are shown below:
350.org
350.org is international movement of ordinary people working to end the age of fossil fuels and build a world of community-led renewable energy for all.
Antioch University Center for Climate Preparedness and Community Resilience
Antioch's Center for Climate Preparedness and Community Resilience delivers applied research, consulting, and education and training. Our approach is solutions oriented, pragmatic, participatory, and inclusive and is based on change leadership best practices and systems thinking. We focus on stakeholder capacity building at the local scale (watershed, municipal, county, region) of preparedness and resilience nationally and internationally, with an explicit awareness of social and climate justice.
Citizen's Climate Lobby
Citizens' Climate Lobby is a non-profit, nonpartisan, grassroots advocacy organization focused on national policies to address climate change.
Clean Energy New Hampshire
Clean Energy New Hampshire's mission is to promote clean energy and technologies through education and advocacy for a stronger economic future.
League of Conservation Voters
League of Conservation Voters influence's policy, hold politicians accountable, and win elections. This is how we fight to build a world with clean air, clean water, public lands, and a safe climate that are protected by a just and equitable democracy.
Monadnock Sustainability Hub
The Monadnock Sustainability Hub was formed as a merger between the Monadnock Sustainability Network and the the Monadnock Energy Hub. This strategic joining of forces allows us to better address energy efficiency, electric transportation, renewable energy and other sustainability issues with in our towns.
We are building a broad community effort as we fight for a cleaner, safer, & more resilient Monadnock Region.
Sunrise Movement
Sunrise Movement is a youth movement to stop climate change and create millions of good jobs in the process. We're building an army of young people to make climate change an urgent priority across America, end the corrupting influence of fossil fuel executives on our politics, and elect leaders who stand up for the health and wellbeing of all people.
Cultivating and Celebrating a Sense of Place
The Monadnock Institute of Nature, Place and Culture aims to help individuals and communities learn about their place and renew commitment to preserving its physical environment and culture, while recognizing the importance of natural, built, social and cultural environments on individual, group and communal levels of identity.
"From Hurricane to Climate Change" Documentary Trailer
"From Hurricane to Climate Change" is a documentary film produced by the Monadnock Institute at Franklin Pierce University. The film has been funded thus far by grants from the Putnam Foundation and the New Hampshire Humanities Council.
It explores the impact on lives and communities of the great New England Hurricane of 1938 and more recent extreme weather events in the Monadnock region of southwest New Hampshire that scientists claim are the result of global climate change.
The film highlights the contemporary efforts of local communities to both adapt the infrastructure of the region to climate change and to mitigate its future impact through building new local institutions of economic and ecological sustainability.
---
"The goal of the Institute is to help individuals and communities learn about their place and renew a commitment to preserving its physical environment and culture."
---
Beyond the Notches: Stories of Place in New Hampshire's North Country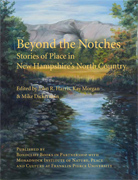 Beyond the Notches features 400 pages of non-fiction writing by authors who have intimate knowledge of this distinctive region, as well as breath-taking photographs, original artwork and historic maps.
Organized into five sections—First Stories, Transformation and Change, Working the Land, Conservation and Recreation, and Competing Visions—the volume includes new work by John Harrigan, Barbara Tetreault, Peter Crane, Rebecca Brown, Steve Smith, Edie Clark, Fran Lavoie, Ernest Hebert, Tom Eastman, and Jack McEnany, among others.
In addition, Beyond the Notchesincludes essays by five North Country high school students.
Shop Now
View a complete Table of Contents for Beyond the Notches.
Beyond the Notches is available for purchase. For more information, contact Kay Morgan, Project Coordinator at morgan.katherin@comcast.net or (603) 868-2485.
We are open to new members who would like to take action to address the climate crisis. Students, staff, faculty and members of the local communities or other interested individuals are all welcome!
If you would like to join us, send an email to koningc@franklinpierce.edu.
CONTACT Institute for Climate Action