FAFSA Simplification Act:
A simplified financial aid application process that expands the federal aid eligibility to families in need.
The Consolidated Appropriations Act, enacted on December 27, 2020, brought about significant changes in federal student aid. Within this legislation, amendments were made to the Fostering Undergraduate Talent by Unlocking Resources for Education (FUTURE) Act, and it introduced the FAFSA Simplification Act. These changes represent a comprehensive overhaul of the procedures and mechanisms for awarding federal student aid. In essence, this law simplifies the process of completing and submitting the Free Application for Federal Student Aid (FAFSA®) form, making it more accessible for students and their families while also expanding the availability of federal student aid.
---
BENEFITS TO STUDENTS AND THEIR FAMILIES
The EFC (Estimated Family Contribution) will be replaced with the SAI (Student Aid Index)
Families and students will encounter a modified assessment of their college affordability and witness a shift in the approach used to calculate financial assistance.
Increased Federal Pell Grant Eligibility
The FAFSA Simplification Act is set to broaden the reach of the Federal Pell Grant program, connecting eligibility with family size and the federal poverty level. This change has the potential to expand the pool of Pell-eligible students at Franklin Pierce University by over 100 individuals while boosting the average award by $600 per recipient.
New Federal Methodology
The updated formula excludes the count of family members attending college from the equation and permits a minimum Student Aid Index (SAI) of negative 1,500. This adjustment aims to provide financial aid administrators with greater clarity when evaluating students facing particularly complex financial circumstances.
Important Dates
October 2023 - Sign up for your FSA ID
December 2023 - New FAFSA Form Opens
February 2024 - Financial Aid Awarding begins for Incoming Rindge Students
March 2024 - Financial Aid Awarding begins for Returning Rindge Students
April 2024 - Financial Aid Awarding Begins for Graduate and Online Studies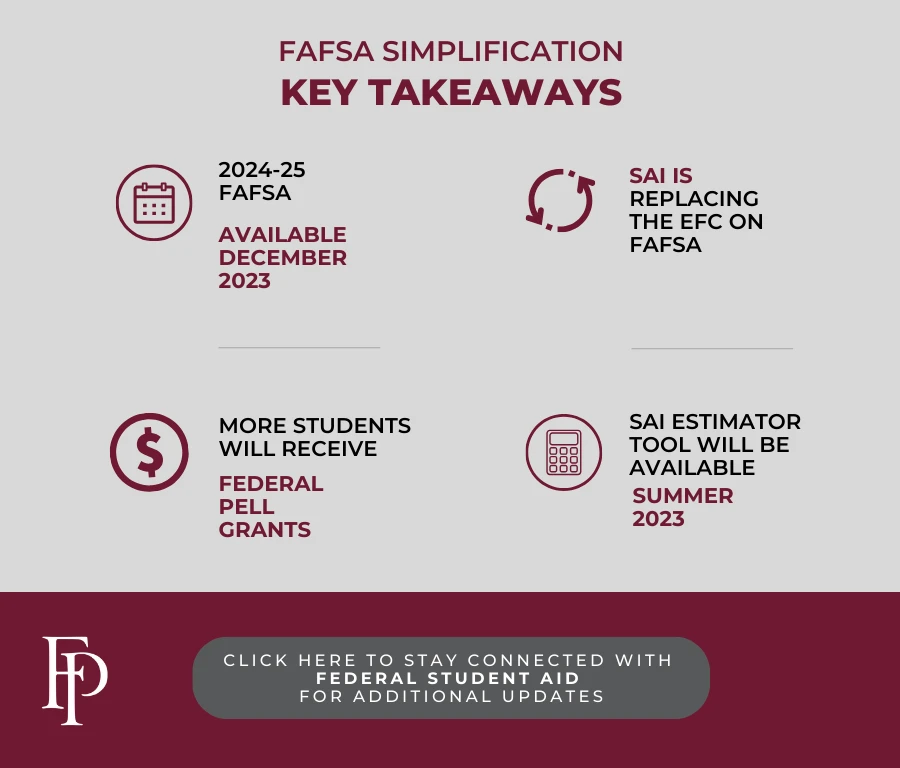 ---
Contact Student Financial Services